This, the Eighth Underdog Anthology, contains pretty much any genre you can think of. Stories to make you laugh, some to make you shiver. Tales of humans and of aliens, in space and on Earth. Light romances and some very dark tales too. Absurdity and logic, merriment and gloom, anything you want is in here.
What do you see in the cover image? Is it the dawn of a bright new day, with the promise of hope and happiness? Or perhaps it's the onset of night, with all the dark things waiting to come out to play? Your perception of that image might change, depending on which story you happen to be reading.
Stories from Justin Sunshine, Mark Ellott, Jeani Rector, H. K. Hillman, Roo B. Doo, Ginger Huff, Daniel Royer, Justin Sanebridge, Martyn K. Jones, Cade F.O.N Apollyon, Marsha Webb and Dirk J.J. Vleugels, make this the biggest Underdog Anthology so far.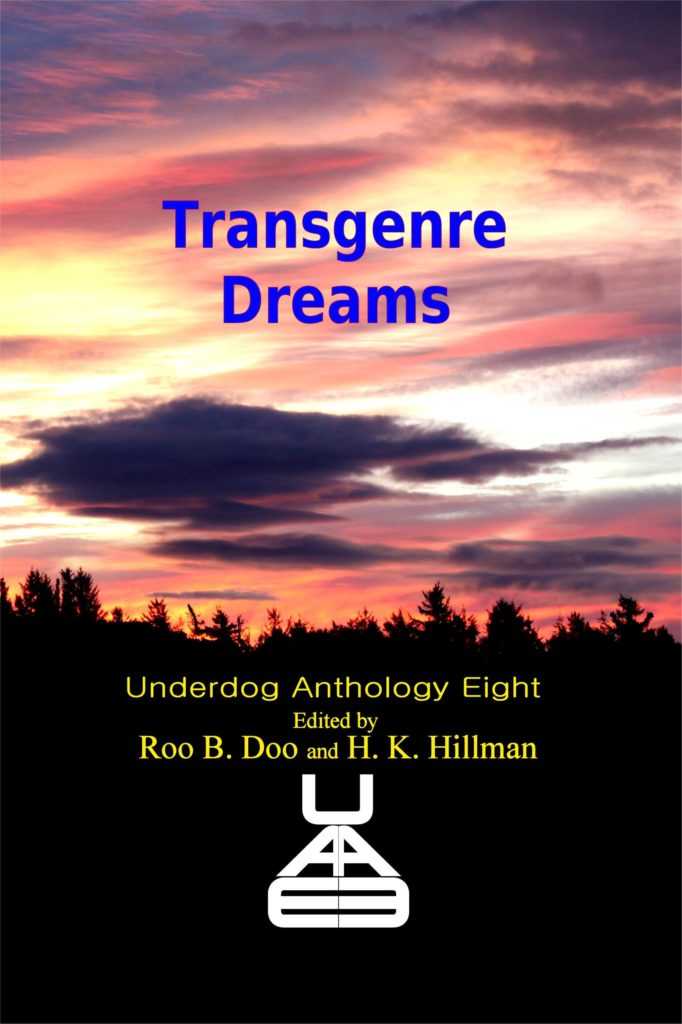 List of stories and authors:
BOGOF Roo B. Doo
A Coelacanth in the Bathroom Martyn K. Jones
A Moment in Time Mark Ellott
Kevin's Grand Adventure Mark Ellott
Danish Boy Daniel Royer
New Fish Daniel Royer
The Janitor Jeani Rector
Under the House Jeani Rector
Pandora's Lost Luggage H. K. Hillman
A Little Knowledge… H. K. Hillman
Claiming Number Eight H. K. Hillman
Tears Justin Sanebridge
The Mother of God Justin Sanebridge
Exchange Students Cade F.O.N Apollyon
She's In The Shower Cade F.O.N Apollyon
Godjumenas Dirk J. J. Vleugels
Cloaked Redemption Ginger Huff
The Magician's Last Stand Justin Sunshine
The Coming of Spring Justin Sunshine
Hope Marsha Webb
Six Months, One Week and Four Days Marsha Webb
Poems and authors:
Cade F.O.N Apollyon
Three Four – The Price of One
One – The Fool Circles Zero
Two – Big Sky
Three – On the Subject of People and Places and Things
Four – Come Alone On
Fiver – Spaces
Marsha Webb
Forgive Me
I don't want to live my life on show
Mark Ellott
Dragon's Child
For a Moment
Music
The Soldier